Raptor Bytes News Roundup. ​ February 3rd, 2023
Team Raptor begins February with a news recap of the week gone by!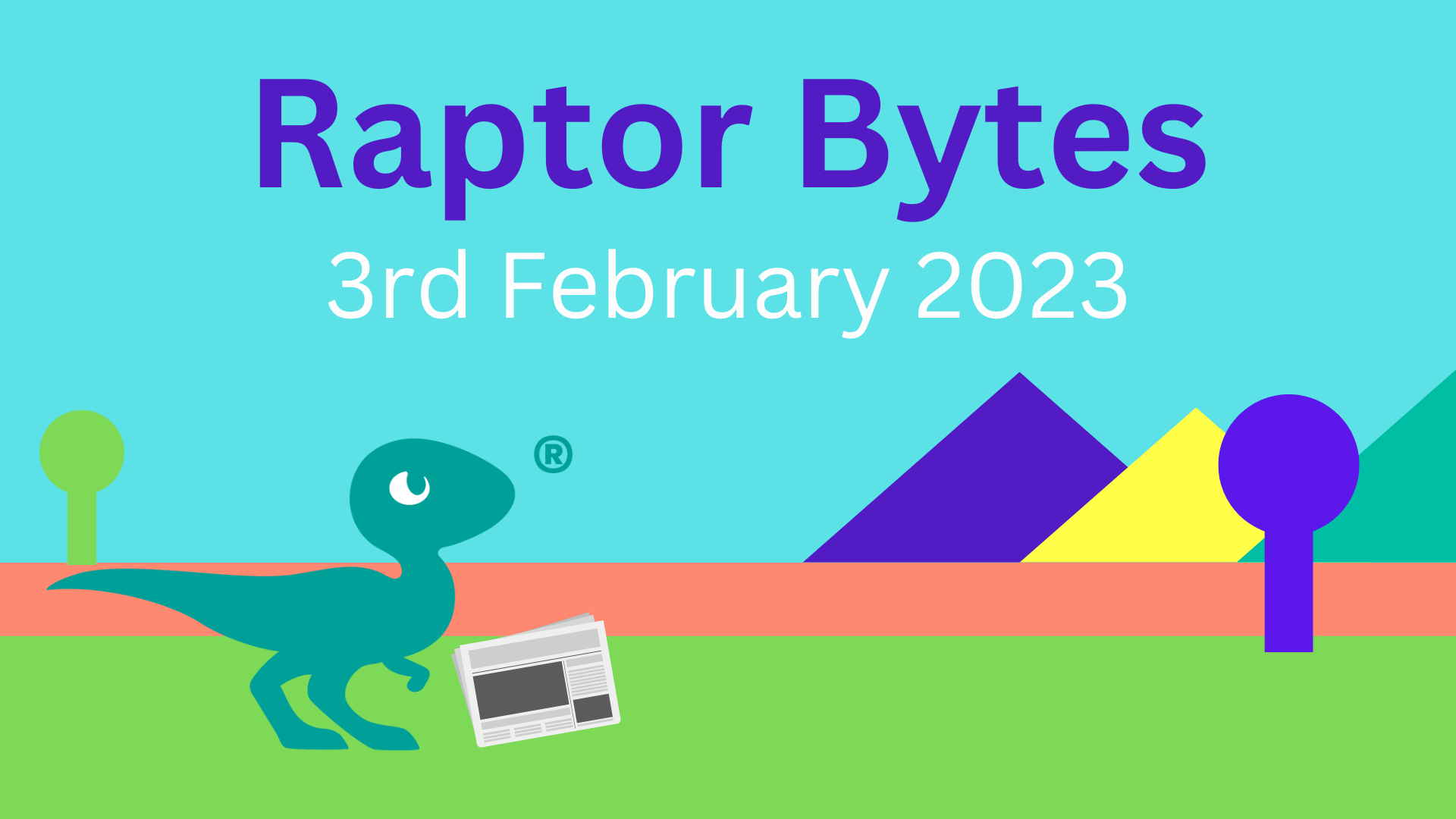 Ivan Zhelev - ImmutableX Announces Immutable Passport
ImmutableX will soon launch Immutable Passport, an exclusive program for onboarding gamers into web3. The new tool is a gamer profile with an embedded non-custodial wallet, similar to an Apple ID that doesn't require a password at sign-in. Therefore, Immutable is not in possession of a user's private keys, nor is it involved in signing transactions. Players will be able to access a suite of tools integrated into the Immutable Passport, including a secure digital wallet, fraud protection and seamless authentication across Web3 games. ​
​​
​Furthermore, the new tech will help Web3 gaming studios drive adoption across mainstream audiences and access meaningful player analytics. For Web3 gaming to keep expanding, game development companies need to ensure onboarding is effortless, secure and works across different games within the ecosystem.
Rosie Lumley - Tomb Raider TV Series In Development?
Gaming is the ultimate muse for popular culture. From Gucci sashaying into Roblox to immersive theatre companies meshing the theatrical threads of the virtual world with IRL, its influence knows no bounds. But my favourite recent example is the news of Fleabag (a.k.a. Phoebe Waller-Bridge) rumoured to be writing the scripts for the new TV adaptation series of Tomb Raider (the original game>>big screen remake). You couldn't write it... well, she will at some point. I'm excited to see how she can bring a bit of her quirky, jerky, flirty style to a franchise with such a fixed identity. But moreover, I know that if anyone can breathe a bit of humanity into the extra-ordinary character of Lara Croft, who has often been dubbed a cliched science-fiction 'fembot', it will be Phoebe. I want to see the real Lara. Something tells me she has another dimension that's dying to be explored.
​
Rana Rahman - Team Raptor Expands
This week, I'm super pleased to announce that we have two director-level raptors joining the fold! First up is Sarah Schindler, who has 20 years of PR and journalism experience. Sarah is helping drive Raptor PR in the DACH region. Her incredible experience includes PlayStation, ARTE, Netflix, SteelSeries, Creepy Jar, Jagex, Epic Games and many more 🚀. For France, we've teamed up again with a long-time partner, Laurent Durgeat, who comes on board with 25 years of experience, ​ on brands such as TripAdvisor, Soldo, Adobe Stock, Gamestream, SOFINS, Groupe ROULLIER and many more. Laurent is also a regular speaker in the Paris conference circuit, a trainer on new media, e-reputation and digital lobbying.

​​
​Thomas Huxter - EA Moves Away From Mobile
I often see it as a foregone conclusion that AAA publishers are a) taking their core IPs to mobile with first and third-party games and b) getting more embedded in the casual mobile games market through acquisitions. And why wouldn't they, with the potential user base and revenue on offer? This story shows that turning AAA games into core mobile experiences isn't all that easy however, demanding regular live ops to keep players engaged longer-term. I'm not surprised about Battlefield - the console/PC version of the game hasn't gained much traction at all - but Apex is a surprise given its initially strong performance and continuing F2P success on console/PC. ​
​
Priyanka Harsora - AI And The Metaverse
My story pick for this week is Coin Telegraph's article: 'How AI can make the metaverse a more interactive space'. The article honestly provides a positive perspective on the role of AI in the metaverse. It highlights the potential benefits of AI such as increasing interactivity, personalization, and user engagement. In my opinion, it provides a forward-looking perspective on the future and also mentions the use of AI in the metaverse, which has the potential to create new opportunities for entertainment and education, in addition to other key benefits.
Joshua Callaghan - Samsung Sets Sights On XR
Yesterday's Samsung Connects event revealed the company's upcoming hardware launches. My favourite announcement of the night did not feature hardware specs or software features; instead, it was the reveal of Samsung's XR partnership with Google and Qualcomm. These three big tech companies have a lot of innovative minds, ​ - and budget- behind them! Whilst VR has had a proven gaming success, I'm ready to hear how a mass-market AR device will impact the world of work and productivity.
With an Apple headset also being rumoured, it seems that we'll be hearing a lot more about mixed reality in the near future.
​