RAPTOR PR APPOINTED AGENCY OF RECORD FOR KINETIX, SANDSOFT GAMES & BIDSTACK
- 3 emergent tech new biz wins from in-game advertising, mobile gaming and web3 sectors -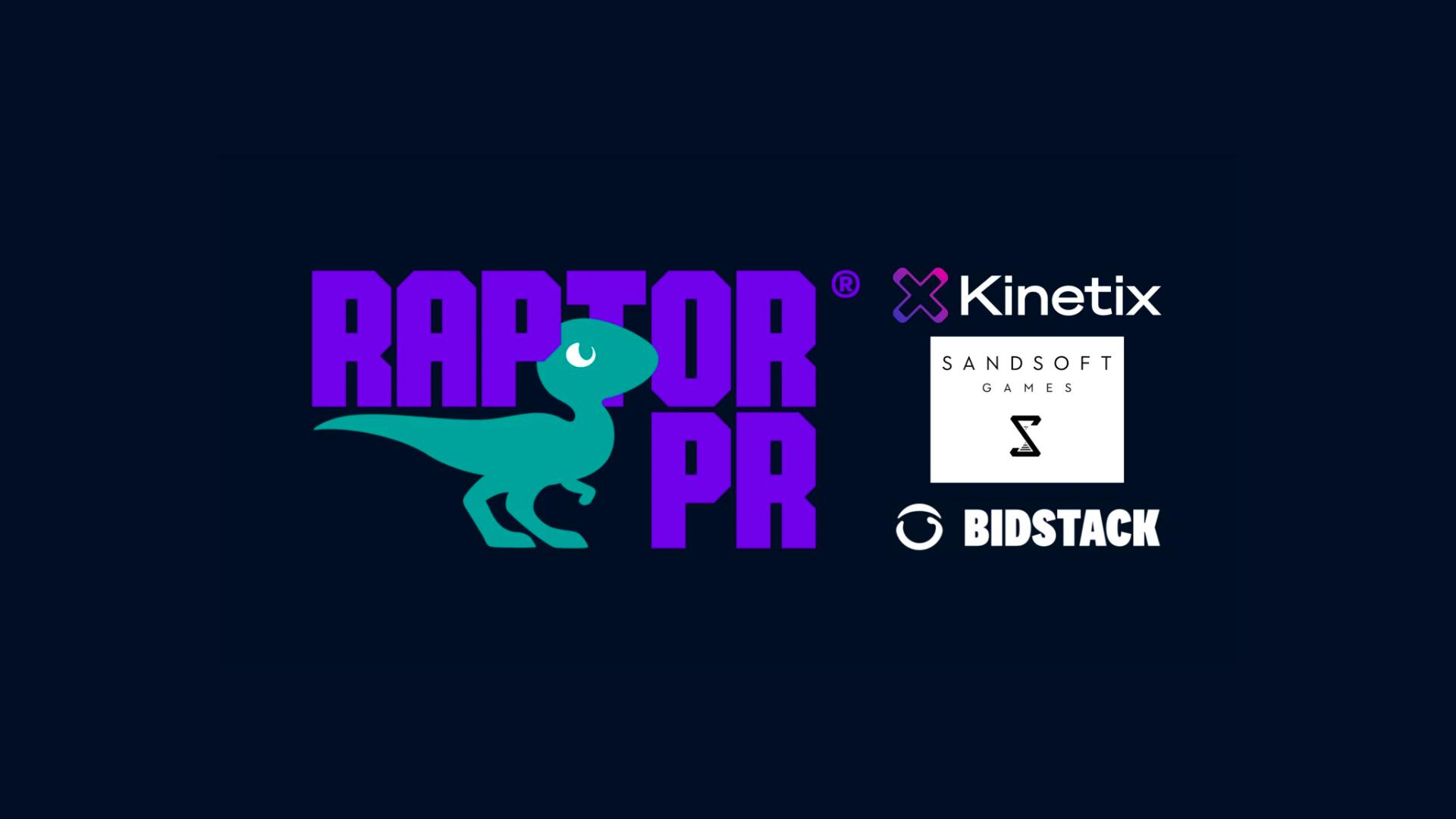 LONDON, UK - 08 November, 2022 - Raptor PR, a leading b2b communications agency for video games, web3 gaming, and media brands, today announces three new business wins. These include Kinetix, a metaverse platform for user-generated 3D animation; Sandsoft, a leading MENA-based mobile games developer, publisher and investor powered by AAA games industry talent; and Bidstack Group PLC, the most well funded in-game advertising company in the world.
Kinetix was named as one of France's hottest startups by Wired in October 2022, which was preceded by a $11M USD seed funding raise earlier in the year. Kinetix works with leading web2 and web3 metaverse platforms like Roblox, Decentraland and The Sandbox to help creators make and share 3D content. Sandsoft Games is at the epicentre of the fastest growing gaming market: MENA. In October 2022 it announced its flagship Riyadh studio, which will house international games industry talent from the likes of Electronic Arts, King, and Rovio, as well as burgeoning local talent. London-headquartered public company Bidstack recently became the best funded in-game advertising brand with a total of $42M USD raised, and announced a series of major hires in the key US market.
For each of its new client wins, Raptor PR is engineering and deploying fully integrated global communications strategies, designed to cut through highly competitive markets. Across its brief history, Raptor PR has honed its data-driven communications consultancy, delivering highly creative earned, owned and paid campaigns across the globe.
Rana Rahman, Founder and Managing Director, Raptor PR, commented: 
"Our latest trio of retained clients perfectly illustrates the niche Raptor has carved for itself at the bleeding edge of emergent technology. We're proud to be defining the narratives for in-game advertising, web3 gaming tech, and AAA-powered mobile game development in MENA. Our new clients represent the best of their respective industries, and are poised to go stratospheric over the next few years."
Arthur Jacq, Head of Marketing and Communications of Kinetix, commented:
"The raptors have a widespread reputation for high impact communications. Their work for brands like Dubit, Admix and Coda Labs, plus their signature work for industry-defining campaigns such as the Global Web3 Gamer Study, have cemented their reputation as market leaders for emergent technologies such as web3."
Ratko Bozovic, Head of Marketing of Sandsoft Games, commented:
"As a global company, Sandsoft required an agency with knowledge of multiple markets and business areas. After a lengthy search, we selected Raptor PR to deliver our global message to market. They came highly recommended, and they have already proven themselves to be invaluable advisors, with a genuine passion and love of the games industry."
James Draper, Founder and CEO of Bidstack, commented:
"Raptor PR has helped to define the narrative of the in-game advertising sector for nearly two years now, so deciding to work with Raptor PR was a no-brainer. Rana Rahman, Thomas Huxter, and the rest of team Raptor have a demonstrable track record of securing great results within the in-game advertising space, and they are ideally positioned to help take our brand to new audiences globally."
Raptor PR was founded in 2019 by Rana Rahman following two decades as a technology PR consultant working on brands such as Sony PlayStation, Rovio, Philips, Fujifilm and AppLovin. The agency came out of stealth in January 2021 with flagship client Admix (now LandVault), and has since worked with more than twenty brands including Dubit, The Tiny Digital Factory, Tenjin, and Coda Labs.
- ends -
For further info contact
Mark O'Leary / Rosie Lumley
+44 (0)7947990380 / +44 (0)7988 129 821
[email protected] / [email protected]
Based in London, Raptor PR is a fast growing global communications agency for video games, web3 gaming, and media brands. Founded by Rana Rahman following a 20-year global career in communications, Raptor PR brings together bespoke teams for each client from a unique network of senior comms and content specialists to deliver tangible results that contribute directly to business objectives and brand engagement. Raptor PR is a proud member of UKIE, the UK trade body for the interactive entertainment sector, and the Blockchain Game Alliance, an organisation spreading awareness and adoption of blockchain in the games industry.
Founded in 2020 by Yassine Tahi and Henri Mirande, Kinetix has created a no-code platform allowing Web3 and content creators to transform any video into 3D animated avatars. Kinetix's free AI-powered platform makes 3D creation accessible to millions of creators around the world. With Kinetix, everyone can now easily produce films, concerts, group dances and video games for virtual worlds. Kinetix's team of 30 passionate deep learning engineers, 3D animation experts, developers and game scripters are on a mission to humanise the Metaverse.
Founded in 2020, Sandsoft is a gaming company based in Riyadh, Saudi Arabia focused on publishing, developing & investing in high quality game experiences and studios internationally. Sandsoft is committed to delivering engaging and entertaining experiences to players in the MENA region and globally supported by an experienced team with a proven track record. This seasoned team is composed of passionate game creators who have worked on some of the most successful game franchises ever released including FIFA, Candy Crush, Need for Speed, Angry Birds and World of Tanks and provide a deep-rooted knowledge of the video games market. With offices in Saudi Arabia, Spain, Finland and China, Sandsoft aims to bring continents, cultures, and people closer and help develop the gaming ecosystem across MENA to take it from an emerging market to a global market leader.
Bidstack is an in-game advertising and video game monetisation platform. Its sophisticated technology allows brands to serve advertisements into natural spaces within video games whilst protecting the gaming experience. These branded experiences can vary from trackside banners and cityscape billboards to pitch side LED boards, skins or any other contextually relevant spaces within the metaverse. Bidstack works with world-leading game publishers such as Codemasters, Take-Two Interactive, and Sports Interactive, and has delivered award-winning in-game campaigns for brands such as Marriott Bonvoy, Paco Rabanne, and Doritos, amongst many others. The company has more than 80 staff across five international locations, and is a public company listed on the London Stock Exchange. To date, Bidstack has raised more than $42 million in funding.